Hi there! Thanks for reading this post! This one is my second and last '2016 roundup' post. If you didn't catch the 1st one, check it out here: Best of 2016 #1. I've split them up into two posts simply because I didn't want that many images in one induvidual post. This way each picture gets more attention :) And on that note, over to batch #2 of my favorite images from 2016:
Sunset post wedding shoot
Yes this is allowed, yes this is awesome!

Let's do more post wedding shoots. Put on your dress and suit some days/weeks after your wedding and take some relaxed and natural portraits as the sun sets.
Bride + groom surprise dance
Kudos to Hanne & Lars for taking the time to make a super fun dance for their own wedding! And not to mention executing it with such swag!
Amazing venue
Not the best technical image, but wow this venue was cool. It was super hard to photograph beacuse of almost no light, but my trusty Fuji cameras did the job :)
Lofoten adventure!
I'm sure I will remember this trip for the rest of my life. And how could I forget. A day driving around the beautiful Lofoten Islands of Northern Norway. Hiking, laughing, driving, eating good food, making two new friends. Thank you Joseph and Jia for letting me be a part of this! This image is wow to me. What a view, what a dress, what a light :) Take me back!
One more from the Lofoten pre wedding shoot. This image is such a good metaphore I think. It's the beginning of these two people's lives together, they don't know where it will lead them, but they are together!
Calm before the storm
One of 2016s beautiful brides looks through her speech one last time before getting ready for her wedding. Love the light, the look on her face and the story of this moment.
Cutest kid of 2016
Check out this handsome fellow waiting for his mom and dad to walk down the stairs.
Any second now, the doors will open
Love this moment in a wedding day, the tention, excitement and joy! Love this one because I think everyone can feel that moment in this image. Also a lamp just above their heads makes for such a beautiful light.
Give me that sunset light!
The colors-blocks of this image gets my heart racing! Blue, grey, green! Lovely :)
Winter love shoot in Skien
If you saw my 1st '2016 roundup' post, you probably remember these two lovebirds and their awesome jackets. Love them :)
Sunrise engagement shoot
This is one of my favorites from all of my engagement and couple shoots of 2016. "Simple" wins every time!
Post wedding photo shoot
Blessed with some nice evening light newlyweds Alexander + Natalia and I spent a relaxed, low-key evening taking their wedding portraits. Love this one because of the simplicity and the symmetry.
LOL of the year
Yup, this actually happened! No photoshop.
Apple orchard wedding in Oslo
A beautiful summer day? Think again! As we were all walking from the church ceremony to the reception, a small hail storm hit us! :)
Thomas & Therese
This wedding was a blast! Good friends and allround amazing people Thomas and Therese had their wedding on a cabin on an island. See the blogpost here.
This one I love just because of the simplicity of it. + beautiful BW tones.
The struggle is real
This isn't a picture with stunning landscapes, light or lots of emotion in it like many of the others. But it's a fun one that I smile when I see. And brides: I'll bet you know the feeling? "How am I going to fit this massive dress in the car?" :)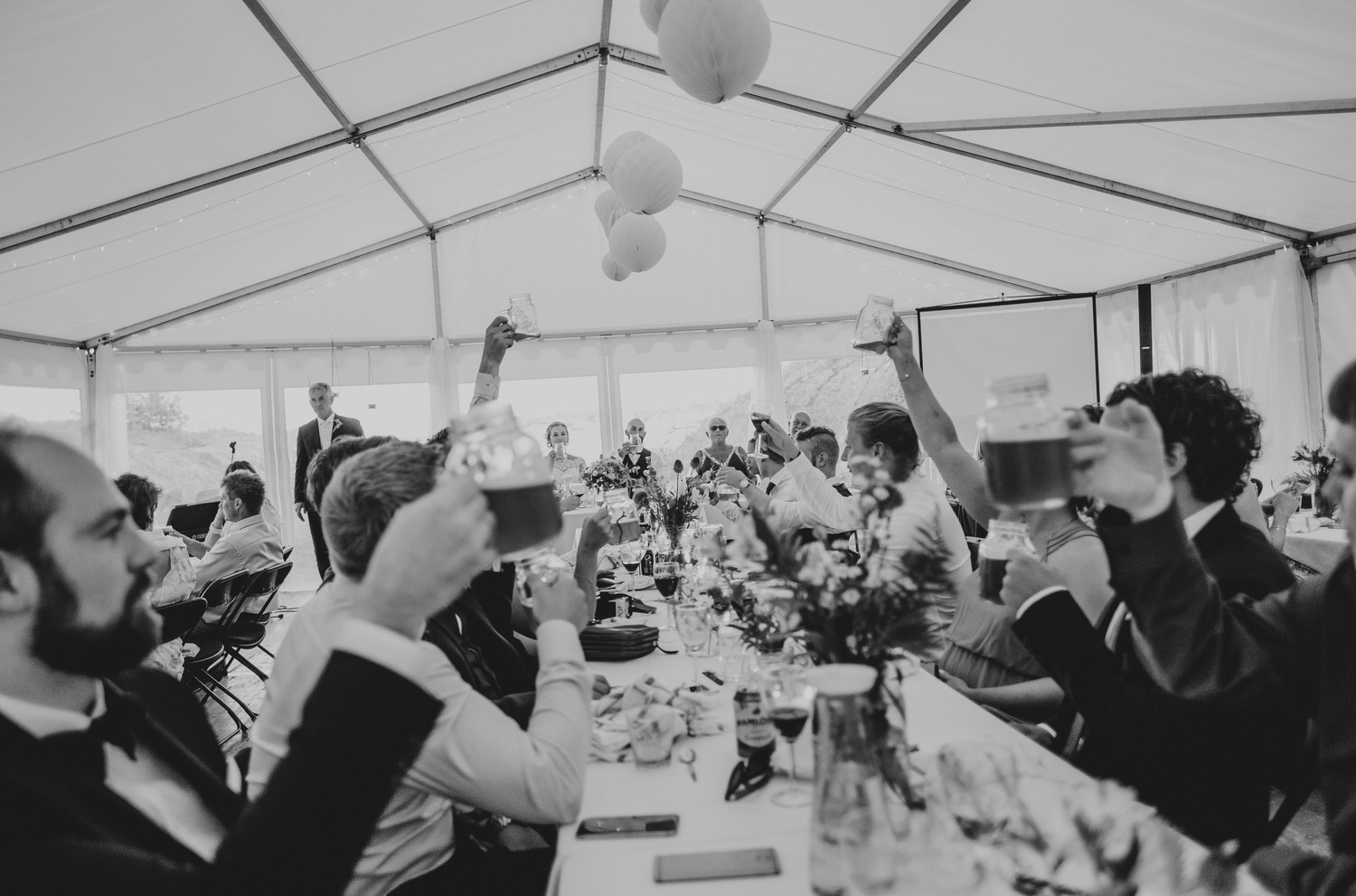 Raise your glasses!
With 6 kinds of beer brewed by the groom himself, "cheers" was heard quite often this evening!
Evening stroll
Love the colors of this image, as well as the non-traditional composition. :) And the light, wow the light!
One more from this mini sunset portrait session with Therese and Thomas. 15 minutes is all it takes to get beautiful images like this one sometimes. And it's such a nice thing for the couple to just be by themselvses for a while too!